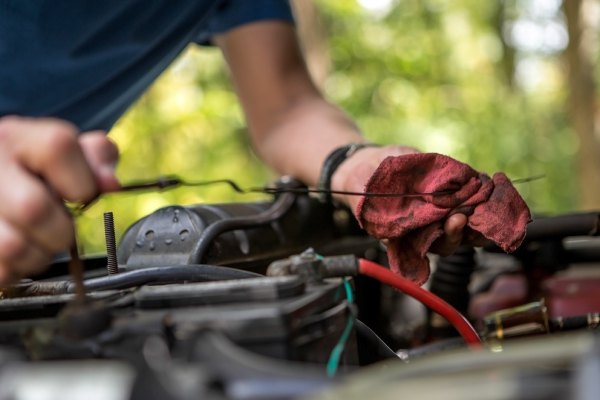 For consumers who are looking for ways to save money, motor oil seems like a good place to cut some costs. While it's a relatively low-cost item, you can quickly run up expenses by using the wrong oil. Read on to get answers to your questions about motor oil.
What motor oil do I need for my car?
Because engines vary so widely across makes and models, auto makers recommend specific types of motor oil for each vehicle. This information can be found in your owner's manual, which you should always keep in your glove box.
Always ensure that the oil that's going into your car is designed specifically for automotive use or it can cause permanent damage to your engine. If you lost your owner's manual or you're not sure what you need, check with the dealership where you bought your car and get their advice on what is best for your particular vehicle.
Synthetic oil vs. conventional: which is better?
Not all oil is created equal, so in order to keep your car running properly it's important you know what you're getting – and what you need. Many of today's cars use lightweight synthetic oils that aren't readily available on the store shelves. If you find yourself in need of a quart of oil between oil changes – or if you're going to change the oil yourself – it's important you check your owner's manual and find out exactly what you need.
Remember that if your car uses synthetic oils, you shouldn't use traditional oil, it can compromise the longevity and performance of your engine. However, it is fine to use synthetic oils in an older car that has previously only used conventional oil. It's important that you read your owner's manual and know what needs to go into your vehicle.
Should I buy cheap motor oil?
You don't have to spend a fortune on motor oil; there are several ways to save money on motor oil without sacrificing the safety of your vehicle. They include:
Shop for oil at a wholesale club or at big-box discounters
Buy oil by the case, which usually offers some sort of discount
Join a rewards program at an automotive parts retailer, and you can typically earn rewards or get discounts on your future purchases
If you need multiple bottles of oil, it's cheaper to buy it in a one-gallon jug, although many people find such a big bottle difficult to handle. (You can always pour it into a smaller container when adding the oil to your vehicle, to keep from spilling it on the engine.)
You may find some great prices online, but look for a seller that offers free shipping. Since motor oil is a heavy liquid, you may find the shipping cost offsets any potential savings.
While we all want to save money, remember that it stops being a bargain the minute it causes damage to your vehicle. Knowing what to look for on the label can save you both time and money and give you peace of mind.
Now you know you have the right oil – but do you have the right car insurance? Learn more about the benefits of Nationwide
auto insurance coverage,
including auto insurance discounts.